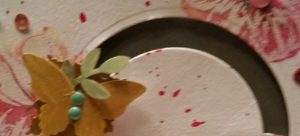 This card is similar to the previous one which was Richard's Tuesday Tip card except that I cut a big ol' hole out of the center.  I white heat embossed the flowers and colored them with ink refills and the Journey blending brush.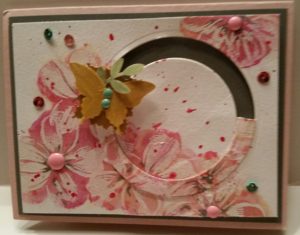 I wasn't really pleased with the painting on this card so I took a chance and used the Journey Circle dies to cut a big hole in the center.  I replaced the center circle to create a channel for the butterfly to flutter around.  The butterfly didn't flit all the way around very well so I put half of the channel material back in and created a half circle.  He flutters just fine now.   The butterfly and leaf stem are cut from punches in my stash.  I added various colored sequins and Bubble Gum silk.  I also placed large pink Candy Dots in the flower centers and small green Candy Minis on the butterfly body.
The card stocks used are Bubble Gum, Rock Candy, and White watercolor paper.