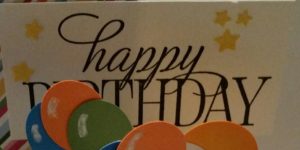 Every year during their birthday month, Fun Stampers Journey sends each journey coach a special Happy Birthday stamp with the year in the message.  Since my birthday is in December, mine doesn't arrive until the end of the year.  But my husband's birthday is also in December so I was able to use it for his birthday card this year.  It's very nice of Richard and Gabby at FSJ to send a free stamp celebrating your birthday.  I feel honored that they remember me.  
So, here is Ed's card for 2016.  It's a card in a box.    He was surprised when he opened it and all of these balloons and clouds popped up.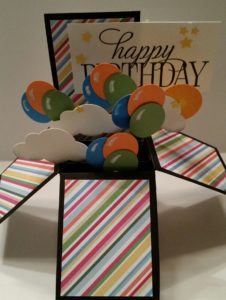 Here is the back of the card showing the actual birthday stamp.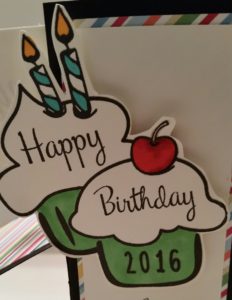 Its always fun to surprise him!  At least I think he is surprised (he makes the appropriate oohs and ahhs).