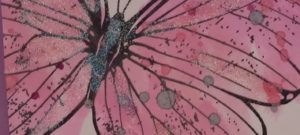 I finished my Fun Stampers Journey Bloom Box cards for February.  I love this butterfly stamp set (Bold Wings, SS-0420) and Richard's card designs are gorgeous.
If you haven't seen the Bloom Box before, it contains a full size stamp set, all of the card stock and all of the embellishments you need to create four different cards.  It also includes a four-color booklet with instructions and illustrations for each of the four cards.  The only thing you need to supply is the ink and glue.
If you are interested in receiving your own Fun Stampers Journey Bloom Box, please contact me at gensweider9@gmail.com.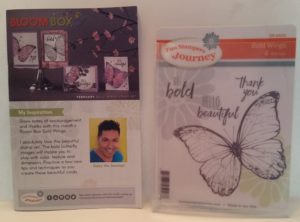 The stamps are made from deeply etched red rubber and each stamp is indexed on the back.  The indexing allows you to place the stamp where you need and still cling to your clear block without releasing unexpectedly.  (There is no labeling involved.)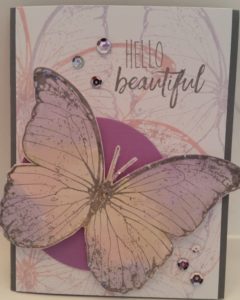 This butterfly stamp is one everyone needs in their stamp library.  I used a different color medium on each card.  This softly colored card was achieved using stamp pad re-inkers and fusion blender.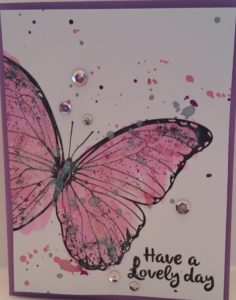 This card was made using watercolor pencils with silver and bubblegum silks splattered across it.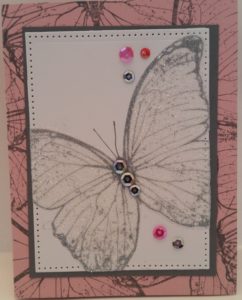 It doesn't show up in the photo but this card is really sparkly.  The butterfly is stamped with Rock Candy ink and then covered with the sticky "white liner" sheet.  The white liner sheet is sprinkled with Journey Sparkle Dust (fine glitter) and then rubbed into the sticky sheet with your finger.  It's a beautiful affect.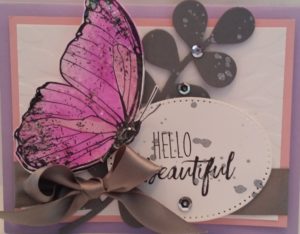 This is my favorite card of the bunch.  All of the die cut elements and dry embossed pieces are included in the Bloom Box.  This butterfly was colored using watercolors and sprinkled with Journey Sparkle Cuts.  The Rock Candy ribbon is beautiful.
If you are interested in obtaining your own Fun Stampers Journey Bloom Box contact me at gensweider9@gmail.com.
Thanks for stopping in today.  Happy stamping to everyone.