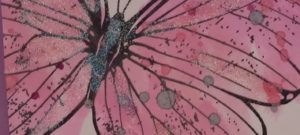 I finished my Fun Stampers Journey Bloom Box cards for February.  I love this butterfly stamp set (Bold Wings, SS-0420) and Richard's card designs are gorgeous.
If you haven't seen the Bloom Box before, it contains a full size stamp set, all of the card stock and all of the embellishments you need to create four different cards.  It also includes a four-color booklet with instructions and illustrations for each of the four cards.  The only thing you need to supply is the ink and glue.
If you are interested in receiving your own Fun Stampers Journey Bloom Box, please contact me at gensweider9@gmail.com.